I had great fun playing Cracklin' Jack's for the 1st time Friday, April 22, 2022, 5:30-8:30.
Nice place, very folksy, very comfortable interior; large, mostly covered patio out back. Great people, and thanks to my minder Marty & bartender David! Always a pleasure to work with professionals.
I set up in a rear corner of the patio facing towards the building. The sound was good, I could keep the volume fairly low.
Thanks to my Canadian friends Owen & Sheila Evans for coming out & taking some pix.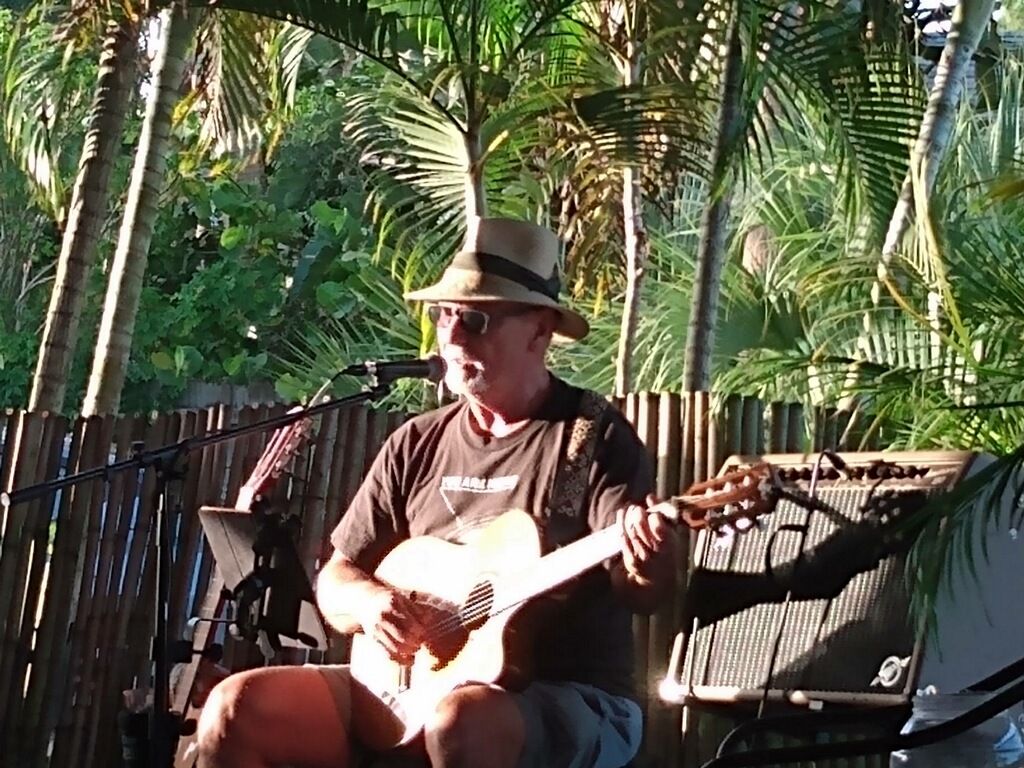 I was in the setting sun for quite a while, but there were breezes & fans blowing, so I was not uncomfortable.
I worked from a new set list, 1/3 Jaz Dumoz, 1/3 Jim Dumas, 1/3 Steve & Chris. After the 1st set, my minder Marty told me to play faster stuff, which I did - I just started skipping the slow songs. Then on my 2nd break, I pulled up some more faster tunes. I played a total of 44 songs.
I asked Marty why she wanted faster songs, she said that the slow songs made people sad. She'd rather they be upbeat, both the songs & the patrons. Interesting, playing in dance bands, it was usually like 3-4 fast songs to 1 slow. I had thought dinner music would be maybe more 50-50, but, apparently not.
When I played all Jaz Dumoz music in Lexington, I was told by a couple of people that I should not play so many slows. Not what I was expecting. I really don't notice slow songs "bringing me down" - I just enjoy when they are pretty songs, regardless of tempo. So maybe I'm different from most in that. I will keep evolving the set lists towards more fast songs.
The songs that do "bring me down" are generally in a minor key. I deprecated "i love paris" & "let's face the music and dance" because both struck me as ominous & foreboding, i.e., anxiety-producing, & NOT romantic, my goal. ;->
I had requests for:
Eagles. Did "lyin' eyes", "desperado", & "tequila sunrise". I think better would be "take it easy" and "peaceful, easy feeling".
Willie Nelson. Did "you were always on my mind" & "without a song".
"sweet caroline". The audience did their standard parts, I always love audience participation.
Several patrons wanted to know how often I played there & when I'd be back, that was appreciated. Hopefully it will be soon, although "soon" at this point is probably next season. Looking forward to it!